The weather was a pleasant surprise, it was supposed to rain in the late afternoon and early evening, which it did not. I took advantage and set up. I had gotten a complete set of Hyperion 5mm, 8mm, 10mm, 13mm, 17mm, 21mm and 24mm eye pieces. They are a very nice set. I also discovered Nighttime Imaging "N" Astronomy (N.I.N.A.). It has a Polar Alignment tool called Three Point Polar Alignment (TPPA) that I wanted to test since I can 't see Polaris. Sunset was at 18:49 and moonset was at 18:09. A truly wonderful night for observing and if lucky some imaging for testing purposes.
I'll start with TPPA since it's the first thing that needs to be done anyway. It's a simple process. It starts at a position you designate and plate solves, moves a set number of degrees and plate solves again then moves again one more time and plate solves. It does some calculations then tells you which way to move the manual RA and DEC controls on your mount. It took me about 30 minutes to get to the point below but that was primarily me learning not to crank the adjustments like radio knobs as well as learning what direction to turn them in.. I figure though that the next time won't take me nearly as long. Once I got it to this point, I did a One Star alignment on Jupiter but could see that Jupiter was still drifting, however, when I slewed to Saturn it was in the eye piece of the 5mm. The beauty of this setup is that you can do this whenever you want and as often as you need to and most importantly, it's free, unlike every other tool I looked at. I reworked the alignment after almost crashing the scope into the tripod. I told it to slew to Saturn when she had just crossed the meridian. The mount started a Meridian Flip. Luckily, I caught it just in time before it did some damage to my guide scope. I need to check the settings to prevent that from happening again.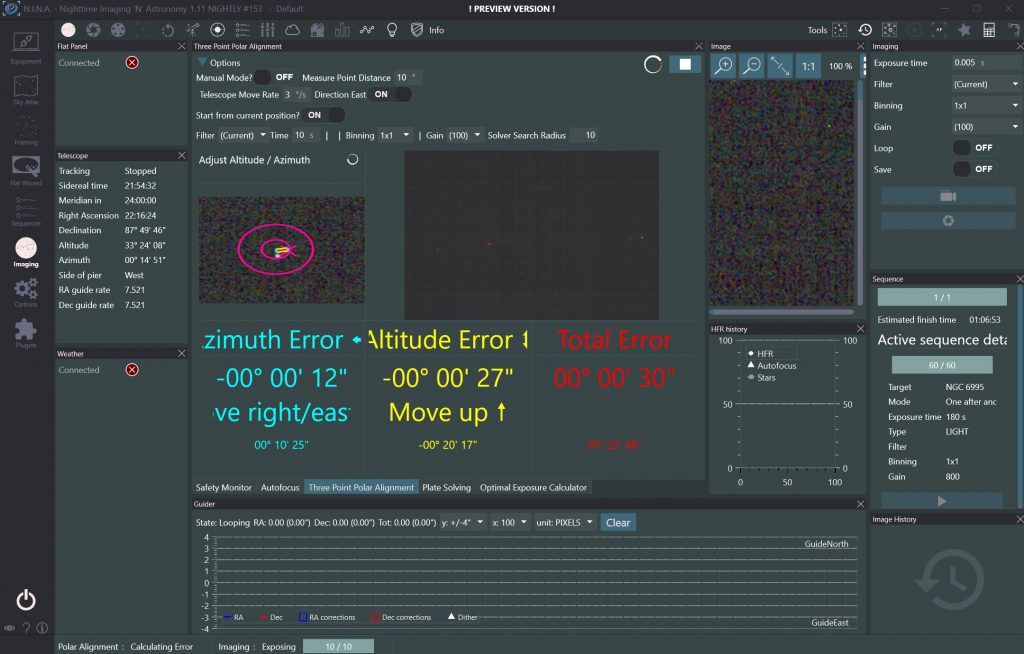 Once I was back on track, I broke out the Hyperion EP and started with the 24mm. For those who read this, these eye pieces were Henry's, "Henkmeister". They fall right in line with what I want to do in that they can be used both for visual and AP. I'll take care of them and they will get lots of use for the years to come. They will most likely be the only eyepieces I will ever need, though I learned long ago to never say never.
The contrast and clarity compared to the 25m Plossl was stark. These EP also have a 68 degree FOV, you can lose yourself in the view. Now I understand why it could almost be compared to the view of actually being in space. The set can also be attached directly to my Canon with an adapter. I should be getting that soon as well. I could just make out the Cassini Division using the 2x Barlow with the 5mm or perhaps that was just my eye playing tricks on me. I had an odd experience with the Barlow. When I first looked in, all I got was a whole lot of nothing. I thought that maybe there was something in the design that was preventing them from being used with the Barlow but that didn't make sense to me. I switched back to the Plossl and things were working fine. I switched back I blinked and Saturn showed up briefly then disappeared again. I'm thinking it's something to do with my eye not looking straight into the eyepiece and the coating used in them, I have a slight astigmatism. Maybe someone who happens to read this can confirm for me. While they don't work very well in F/5 scopes or faster, the coma of the scope becomes quite obvious according to Baader, the view in my 80ED F/7.5 reduced to F/6.3 was stunning. I also plan on eventually getting a Celestron C9.25 F/10 OTA, so these EP will be prefect in that as well.
Since my time was limited as it was a work night, I switched to the Canon for a couple of test images. It had taken me longer to get everything up and running initially. N.I.N.A. wasn't plate solving in the sequence but it was in TPPA, made no sense to me. It was also generating an error about something in the sequence. Turns out that I had left the filter section blank, it wants Current. It also was telling me that the sequence I had set up would take no time even though I had set up 30 subs at 180 seconds. I added the same line and deleted the first one and things started working after I restarted everything including the plate solving. My target was NGC 6995. I first saw it on Stellarium back in January and knew I wanted to capture it. I can see my dog in the nebula, I call it the Scrappy Nebula. 😊 It was late and my backyard sky is extremely limited because of the trees on the west side. I only managed to capture 4 before the trees started to obstruct the view. I stopped the capture and broke everything down. A quick look told me that the Polar Alignment needed work. I got some serious elongated stars. My focus for my next session is to fine tune the Polar Alignment and get guiding working.
Clear Skies!